Hi all 1st of all bear that in mind each and every word of this post is truth... I've been quiet up till now until you people banned me unfairly...I need to tell you how i been feeling about shit going on here..
1st you take away my Clan Moderator Status even when I am active on Forums..But I am okay with that
2nd you Ban me for saying I use sObeit...and all your so called proofs not showing me hacking or anything..They just show the hp not me warping the heli or restoring it...But hey no worries
3rd you take away my MG Tag..I kept quiet..
4th Now you say that I am done with MG Tag that I can't apply for it again..
What The **** man....
See thing is all you guys want to care about is what mahad thinks...he said he suspected me cuz i had a perfect aim in dm ..well see this mahad
we were 5 people up in the balcony ME,Gabriel,Predator,Fenix,Opex,Nascau and when atif came we were shooting him and by the time he used to come up to get me he had lost almost all his armour with 50-70 hp left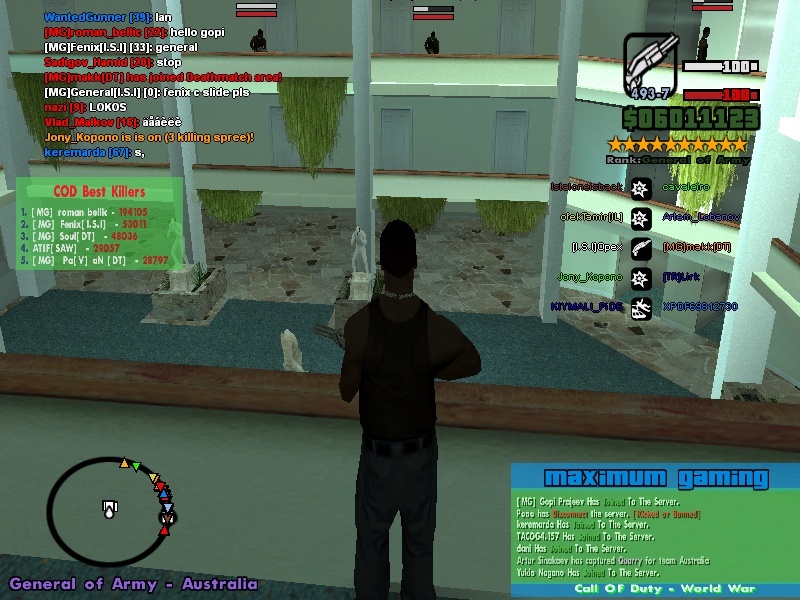 Then when he came up i could've easily kill him in straight shots
You expect me to miss these straight shots? I ain't nab like you that i'll miss straight shots
See the pics showing me and gabriel both shooting Atif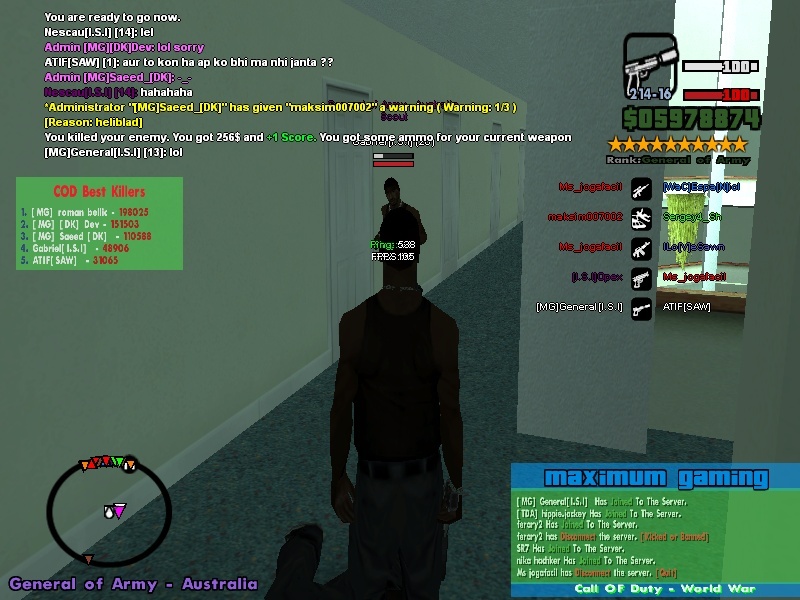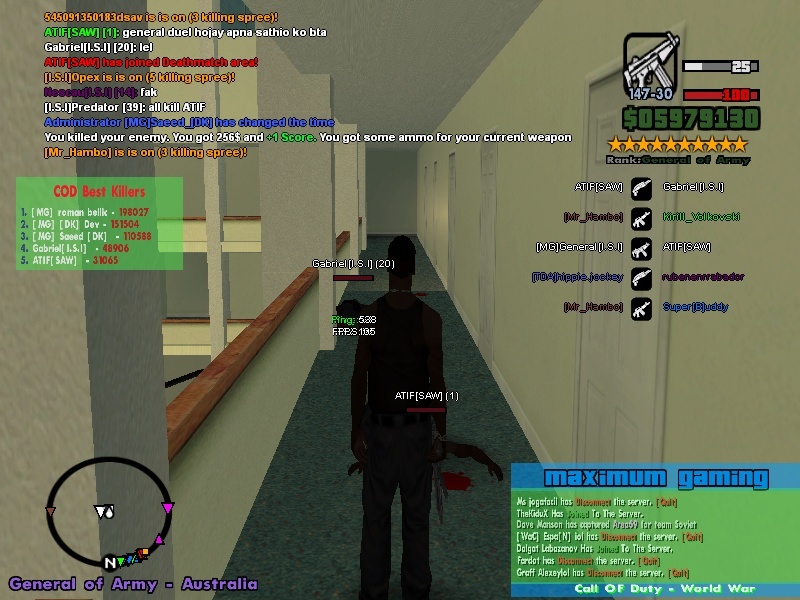 But hey you framed me and banned me for sob man...Yes I have no proofs showing I didn't do it...I could only tell you guys I didn't do it but you people seemed like you didn't WANT to believe me...
Alshan didn't want to believe...everyone was caring about the hp of heli...Well you said either take my tag and get unbanned for 1 week then banned again or lose the tag and be unbanned forever..so i chose to leave the tag after much thinking and persuading by friends...This ain't fair
Let me remind you of some examples:
1- Mahad brings a pro (aimbotter) from somewhere and starts boasting of his greatness...True suspects him of aimbotting but you people don't listen..Then Mahad makes him an admin in no time...I dont know how long he been in our server..but he sure ain't old as we are..so instead of giving us a chance you gave him adminship..
2-Mahad bans LCPD for Aimbot..Lcpd got no proof showing he innocent same as me..
Me and Fenix back him up and get him unbanned...Then LCPD tells me he'll be joining ISI when gets unbanned..When he does get unbanned I pm'ed him on the forums twice asking him what to do either add him in clan or not..but he ignored Yesterday I asked LCPD in game what about you told me you'll join me ...guess what he told me?
He told : '' I got a better offer
''
See he now an admin when he became DK as RinGan LCPD was banned but couldn't prove his innocence but he got to keep his tag and now he admin too...Seems like mahad brings his friends and makes them admins for his clan showing "look we take only pros in"
I saw that pro aimbotter
I've got more
3-This might hurt a bit you two but i gotta tell it...Two of our MG members start to share the admin power one of them has...They never got their Tags removed neither did the REAL admin that time got adminship removed...and the 2nd person got adminship too...hmmm cool
4-[MG]Jayden everyone knows him=...everyone knows how many time he abuses his powers...He never got adminship removed neither the tag
but when I am framed not proving I hack or anything you take away my tag and alshan tells me i won't get it again... "I am done for tags"
Is this Justice?
Seems like everyone is interested in is getting an adminship and whether an admin got ur back or not...
I've been here for 8 months...Did anyone suspected me of hacking? or anyone said it? If I been using hacks am I stupid to put my rep on the line for using it in front of 5 admins in-game?
Seems like you don't wanna trust us..We've been here for quite a while but you still don't believe us...
I got no proof showing me innocent but when i told you i am speaking the truth no one was willing to believe me (Godmask and Bellic came late for me) but when I Sweared.. Mahad starts telling you its a Fake Swear Look man i don't know why you hate me  or stuff but remember this I ain't a LIER most of all..I know the value of my words..You think i will fake swear just to get unbanned?Its not worth it
P.S: Mahad the next time you decide to frame me better make a video and you can spec me like 24/7 as always but you ain't gettin shit cuz i dont do hacking in ths server..I've not used sob since 2013
for the hack you accuse me on my screen the heli never fall down as you say but you don't wanna trust me i see...I don't know if it lag or bug or glitch but neither I hacked not Predator..If anyone of us woul've hacked the other would've been shocked and their would be something in the chat like xD if we knew other is using hacks
Don't close the topic or delete it cuz i'll make it again..I need these things cleared in my mind...I said to mahad i'll ruin him once i get in-game cuz I not having a good time these dayz...I got more things to worry about then this unfair ban..I was angry already but the way he reacted banned me and made it a joke it got my more angry..So i said shit i shouln't have...I'm having a hard time so i think
i might stop playing
for quite some time due to my personal problem (Crazy knows best) and other shitt..